Home
A Miserable Day in Yellowstone!
A Test of Endurance
Avalanche!
Bear Charges Trail Riders
Brother No.1 Takes a Hike
Camping,Boating and Bears!Part I
Camping,Boating, and Bears! Part II
Canoe Collision
Cooking School with M
Dust, Dips, and Bear Tracks
Family Forestry Expo
Fire Season!
Fowl Feast!
Great Falls
Grinnell Glacier Hike
Grizzly?
Hoar, Ghosts, and Pits!
Lost on Father's Day?
M&E:Kids in the City!
Magical Missoula
Marmot Mountain Fun and Terror!
Mystery in the Rain Forest
Shuttle Bus Adventure
Snowshoe Fun on Winter Trails Day!
Splash Pass
The Big Fair!
The Blood Red Moon
The Great Goldfish Adventure
The Swan Rangers and the 79 Switchbacks!
The Tough Trail
Ticks, Elk, Buffalo, and More!
Too Much to Bear

Share this page with a friend Click file, then send

Marmot Mountain Fun and Terror!


Just before heading out on the Piegan Pass Trail, in Glacier National Park , our dad read us the stuff about the trail in his trail book. One of the things he said he read was, "Hoary marmots terrorize visitors."

We started down the trail where the clear, shallow, Siyeh Creek ran alongside the trail. It got more brushy, and then we began walking through a forest. In the beginning of the forest our mom sprayed some Deet on our pants in case of ticks. We crossed several streams on little bridges. Soon we came to a bigger bridge by which we sat. M & E crossed the bridge to the other side, where "M" sat and meditated near the water. She found the sound of the water peaceful and relaxing. "E" took videos of white butterflies, which were all in a little cluster. After taking pictures, and having a rest, we got up and continued on the trail.

Soon we got to meadows, where pretty flowers bloomed. They soon changed to meadows of glacier lilies. Bears like to eat the bulbs of these plants, and we saw many signs where bears had dug them up in these meadows. We also saw quite a large piece of hard ground just torn up out of its place, all in one piece. It must have been a bear. We hurried through the glacier lily fields in fear of bears. In the midst of this, we stopped to talk to a man who our mom recognized as a man from the grocery. The sun was beating down, so after a short conversation with him, we continued on.

We sat down to rest on a talus slope, which is a mountain slope covered with loose rock.

"When will we get to the hoary marmots?" asked "E".

Our mom said that she thought our dad was joking about marmots terrorizing hikers.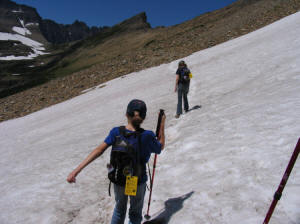 We started again, getting to a rocky field on the side of a mountain. We crossed two slippery snowfields, even though it was a hot summer day. Soon, we saw two bighorn sheep relaxing in the snow way down below us. We looked at them through our binoculars. Our mom used her camera and our dad used his monocular. But, we had to get to Piegan Pass. We continued, frightened by the chance of meeting an unfriendly bear.

At Piegan Pass, we were greeted by something exceedingly spectacular.......the backside of the seemingly endless Garden Wall. Almost as spectacular as the Grand Canyon itself, the Garden Wall loomed in front of us. Finally, we were at Piegan Pass. We found a spot to eat, and sat down. While eating our tuna, rolls, and peach, "E"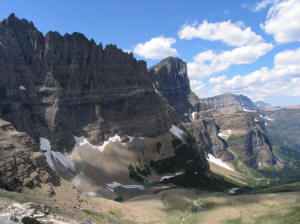 spotted a hoary marmot above us. We took some photographs, but continued eating. A ground squirrel attempted to eat "E"'s food, but she shooed it away. Mom advised "M" to pick up her paper towel which she had dropped on the ground.

Then, another marmot came bounding up the hill heading straight toward us. It appeared fearless and came right up to us. The marmot showed its yellow teeth and began nibbling on "M"'s boot. "M" was very brave and kept sitting in her spot. Mom used her hiking pole to discourage the marmot and make it move away. Maybe Dad wasn't joking when he said that marmots terrorize hikers on the Piegan Pass Trail. The marmot went under a rock, and began munching on "M"'s paper towel that she hadn't picked up. Dad took the paper towel away from the marmot, as he didn't want it to cause harm to the animal, and gave it to "M". Our mom thought that perhaps the marmot could have rabies, and "M" might have touched its spit on the paper towel.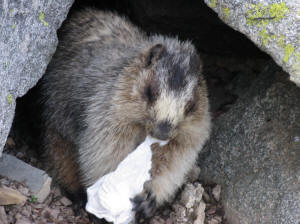 For a while, we amused ourselves with the fun and terror of having a wild animal right next to us. After some time the marmot went away. A ground squirrel started eating a little tuna that Dad accidentally dropped on the ground. "E" jumped, because she thought the marmot was sneaking up behind her. The ground squirrel ran away, but always came back. It was very fun.

Finally, after a long and much-deserved rest, we started on our way back down the trail. We found it nice and relaxing. After talking to a family with two girls of 17 and 13 years, we made it back to the trailhead. It was a marvelous feeling to have finished the hike.

Quick Facts About this Story:
It was nine miles round trip
Marmots were not mentioned in the trail guide book
We were stopped for at least 3 hrs. total
©8/6/07 Share this page with a friend Click file, then send