Share this page with a friend Click file, then send.

Brother No. 1 Takes a Hike!

So one day it happened. Brother No. 1 came to visit us from Idaho. On the second day of his stay in Montana, we decided to take a hike along the snow packed Going to the Sun Road. Of course, most of The Sun Road is closed to cars for winter, but is open to hikers and cross-country skiers.

The day before, Dad had gone to explore the area to find out the hardness of the snow. He said it was nicely firm and we would not need snowshoes. That morning, we were in a whoosh of packing for the adventure to come. Brother No. 1 got his gear out of his truck and even loaned us some of his extra hiking poles. We threw apples, water, and trail bars into our backpacks. We got our heavy coats, hats, and gloves. It felt strange getting ready for winter since where we lived it was warmer and turning to spring. After packing the van, E determined that M should sit in the far back seat. Brother no. 1 and M sat in the middle seats. After everything was packed and ready to go, we hooked our seatbelts and pulled out of the driveway.

At first, M thought that being in her seat felt like being on a roller coaster, but soon she got accustomed to her new seat. We talked with Brother no. 1 as we drove through the beautiful Montana countryside to Glacier National Park.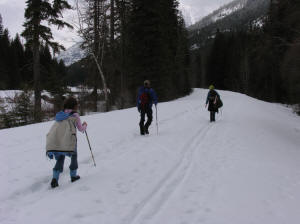 After the ranger checked our park pass, we drove to the parking area near Lake McDonald Lodge. It was cold and we pulled on our coats, hats, gloves, and packs. M had to re-adjust her backpack so that it could fit over her fat coat. We stepped onto the road and started our adventure. It is strange how a few steps can start a memory that will last forever. We walked quite fast in the beginning. It didn't feel grueling like it usually does when we go snowshoeing or hiking.
As we walked, we took in the sites and stopped to look at a tree covered with fungi. The fungi was mossy looking and can be used as a band-aid in an emergency. Mom took pictures and we kept walking. We reached McDonald Falls, which was quite a spectacular site. E recorded the falls with her Flip video camera, trying to capture their beauty. We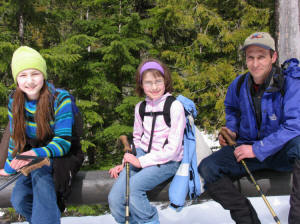 then passed the horse bridge. We planned on crossing it on the way back, to take the trail through the woods. First, we would try to reach the overlook.
M and E kept up with their fast walking brother, while Mom and Dad lagged behind. As it turned out, the snow wasn't so packed in places. If we got off of the beaten path, our legs would drop into deep snow. At one point, gropple fell down in torrents, which made the hike more exciting. It took a very long time to reach the overlook. The snow was up to the railing and M fell down into the snow up to her waist. At the overlook, we rested a bit, ate our snacks, and took pictures.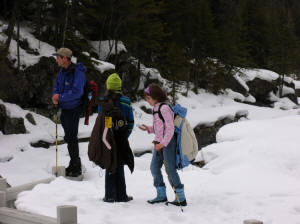 It was time to turn back and Brother No. 1 led the way. We stopped at the horse bridge where Dad determined the trail was too treacherous to take. Our legs were tired and after what seemed like a long time, we made it back to the van.
On the way home, we stopped for soft drinks and chocolate milk. Orange sodas and chocolate milk are great after a hike. When we were almost home, we noticed that from the angle we were at, Mt.Aeneas looked farther away than usual.
Back home, we ordered pizza from Papa John's.

Quick Facts:
The last time we went on a real hike with Brother No. 1 was way back in 2000 at the Grand Canyon.
©3/25/08