Home
A Miserable Day in Yellowstone!
A Test of Endurance
Avalanche!
Bear Charges Trail Riders
Brother No.1 Takes a Hike
Camping,Boating and Bears!Part I
Camping,Boating, and Bears! Part II
Canoe Collision
Cooking School with M
Dust, Dips, and Bear Tracks
Family Forestry Expo
Fire Season!
Fowl Feast!
Great Falls
Grinnell Glacier Hike
Grizzly?
Hoar, Ghosts, and Pits!
Lost on Father's Day?
M&E:Kids in the City!
Magical Missoula
Marmot Mountain Fun and Terror!
Mystery in the Rain Forest
Shuttle Bus Adventure
Snowshoe Fun on Winter Trails Day!
Splash Pass
The Big Fair!
The Blood Red Moon
The Great Goldfish Adventure
The Swan Rangers and the 79 Switchbacks!
The Tough Trail
Ticks, Elk, Buffalo, and More!
Too Much to Bear

by E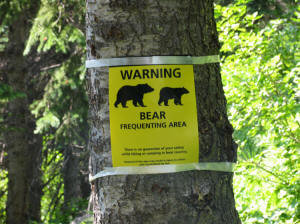 We went out to Many Glacier to camp. Upon arriving at the campground, we got one of the last 3 campsites. Since the trail we planned on hiking (Iceberg Lake) was closed because of bear danger, we decided to hike up to Grinnell Glacier instead. I didn't want to go on any hike but Mom and Dad wanted to get their exercise.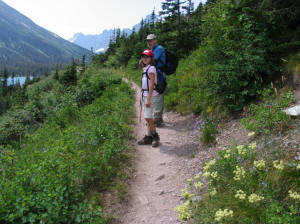 Along the trail we arrived at a sign that said in 3 miles the trail would be closed due to snow. I was relieved that we would not have to go the whole 5 1/2 miles. Pretty soon I felt suffocated by the heat and wanted to turn back. Mom and Dad refused and kept Mallory and me going. A man told us that a waterfall would cross the trail around the bend. We went around the bend, but I saw no waterfall. After walking forward some time longer in the exhausting heat, we saw a refreshing looking waterfall in the middle of the trail.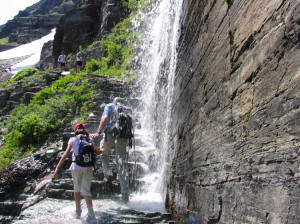 The torrents of water made me cool and gave me a little more energy. I wanted to turn back here, but Dad kept us going. Perhaps the snow had melted and we would be going all the way to the glacier. Well we kept our legs walking forward and pretty soon we reached the picnic area right before the lookout. I suppose the snow had melted since that sign had been put up. We walked the 0.4 miles to the lookout.

Mom and Dad were slow. Mallory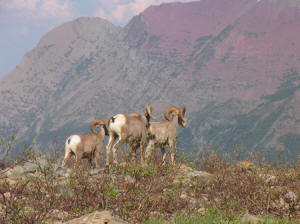 and I stayed pretty far ahead of them. A couple told us that there was a herd of bighorn sheep rams at the lookout. We kept walking, but soon waited for Mom and Dad. There were the rams at the top and even a female down in a valley. Even though we didn't go to Iceberg Lake, we went to iceberg lake. Grinnell Lake was covered with icebergs and had bits of blue in places. There was even a little mountain of ice.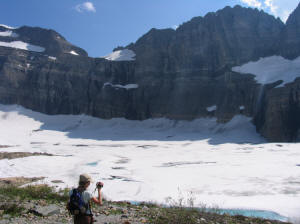 After a brief rest at the top, we turned back down the trail. We were cool when we went back through the waterfall, which made the experience freezing. There was a lot of brush, which made us fear the bears. No bears were spotted and we safely made it back to the van. We drank some chocolate milk and drove the short way back to our campsite, No. 50.


Mom fixed some hot dogs and beans for us to eat. I dislike hot dogs very much, but I ate them anyway. After a while we went to bed. Our tent was cozy and I had a pleasant night.

We woke up the morning after our hike to Grinnell Glacier. After taking down the tents we ate a breakfast of cereal, and then continued back to the Many Glacier Hotel. As we stood on the dock near the hotel, I suggested going on a ride in the canoes. I really didn't expect any outcome, but when Mom and Dad stood in line to pay, I knew we were going to take a ride. I had never ridden in a canoe before and was afraid that I would feel totally unsteady in the water. However, when I stepped into the boat I felt very steady and unafraid. I was inexperienced with the paddles. Dad and I accidentally went toward the rocky shoreline. We hit the rocks, but were unhurt. The waves were rising and Dad said that perhaps the canoe would turn over. We paddled toward the calmer waters near the opposite shoreline.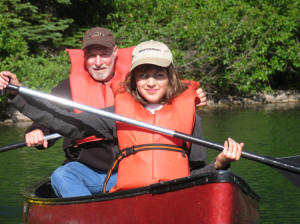 Dad told me the well known story about how he was in a canoe race with my sister Janice. Mom was in it with Uncle Robby. The prize was a dinner for two at Copelandís. However, they changed it to a dinner for four, as to assure that families could go. Mom and Uncle Robby's canoe flipped over, but the other three canoes, including Dad and Janice's, crossed the finished line at the same time. Therefore, Uncle Andy had to give all 12 people a dinner for four.

Mom and Mallory rowed closer towards us. We aimed for their boat, and Mallory (who must really be crazy) threw her paddle overboard preparing for a crash. We only sideswiped them, and Mom deftly picked up the paddle as she passed. The paddles would cost $20 if lost or broken. On the way back to the dock we had a hard time battling the wind. Every moment we were in danger of flipping over. We safely made it back to the dock.
It was a very fun hour of canoeing. We looked at the horses that you could ride, but did not take a ride. We went back to our automobile, and drove all the way back home. I wish we could have stayed longer, but I had a lot of fun anyway.
©07/28/09

---