Home
A Miserable Day in Yellowstone!
A Test of Endurance
Avalanche!
Bear Charges Trail Riders
Brother No.1 Takes a Hike
Camping,Boating and Bears!Part I
Camping,Boating, and Bears! Part II
Canoe Collision
Cooking School with M
Dust, Dips, and Bear Tracks
Family Forestry Expo
Fire Season!
Fowl Feast!
Great Falls
Grinnell Glacier Hike
Grizzly?
Hoar, Ghosts, and Pits!
Lost on Father's Day?
M&E:Kids in the City!
Magical Missoula
Marmot Mountain Fun and Terror!
Mystery in the Rain Forest
Shuttle Bus Adventure
Snowshoe Fun on Winter Trails Day!
Splash Pass
The Big Fair!
The Blood Red Moon
The Great Goldfish Adventure
The Swan Rangers and the 79 Switchbacks!
The Tough Trail
Ticks, Elk, Buffalo, and More!
Too Much to Bear

Share this page with a friend Click file, then send.

A Test of Endurance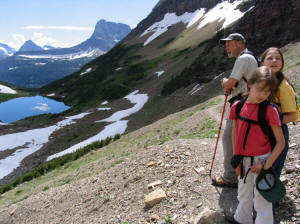 It all happened the day when we had gone out on a ranger led hike to Iceberg Lake in Glacier National Park. This is the same place where on a previous hike, we had seen a bear on the trail. After we had eaten lunch at the lake, we began hiking back. We took the 2 1/2 mile side hike up to the historic Ptarmigan Tunnel. We began the strenuous hike with a steep climb that caused even the bravest of little girls to sit down.

People complimented us on our endurance and encouraged us all along the way. Our family finally made it to the winding switchbacks. We hiked up the switchbacks and all the way through the tunnel. It was very hot and dry that day and our thirst was quenched with water. York peppermint patties kept our mouths moist. On the way back, "M's" legs were so tired she had to lie down. Once we saw at the summit of Apgar Lookout Trail, a family's written remark, "We are wonderful." After the Ptarmigan Tunnel hike, we can truly say the same.